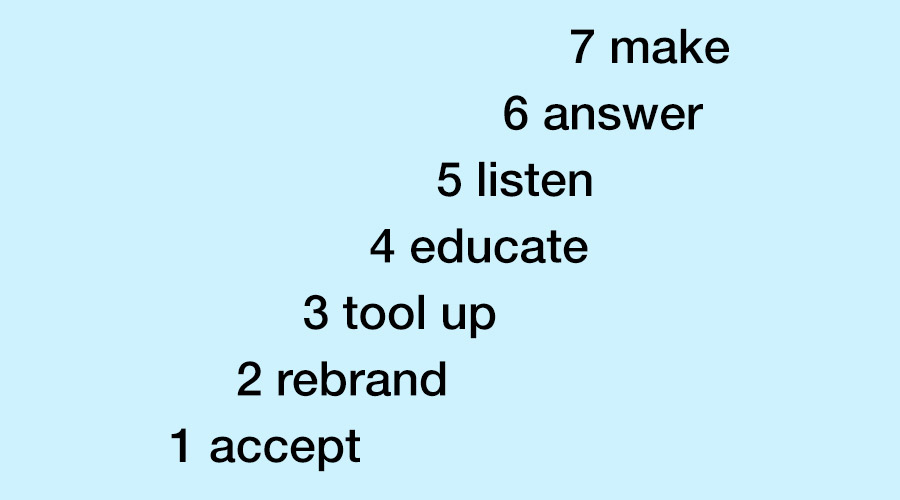 A company can be seen as an innovation manufacturer which buys and sells innovation, making open innovation a natural next step in growth, equal to sales. Therefore all companies should become open innovation companies in order to compete in buying innovation, just as they compete in selling it. Transforming a company into an open innovation company should be seamless. We recommend our 7 steps approach:
1) Accept
Open innovation is understood and accepted by all team members. This requires training and dialog.
2) Rebrand
Company communicates that it is not only as a seller but also as a buyer of innovation. This is a necessary and delicate step, unique to each company.
3) Tool up
Open innovation requires a platform. We recommend our openinnovation.me, but any platform is good. Platform needs to connect all key team members with customers.
4) Educate
Customers are educated in how the company buys and uses open innovation. Open innovation promotion is constant and consistent, just like sales.
5) Listen
Once everything is set up and customers are informed it is time to listen. Time and attention are dedicated to listening to external innovators.
6) Answer
Even if not all innovation suggestions are accepted, they should all be answered and many should be rewarded for the effort.
7) Make
This is the final goal of open innovation – making better products thanks to external suggestions.
We can carefully guide companies through the 7 step open innovation transformation. Each company is unique. To start email Andrea at andrea@openinnovation.me.